Building a Customer Data Platform using Databricks in AWS
What is CDP?
In Customer Data Platform all the customer data are brought into one place, stitched together to give a holistic view of a customer. It would also server as a single source of truth for all the questions/queries an organisation would like to ask.
Architecture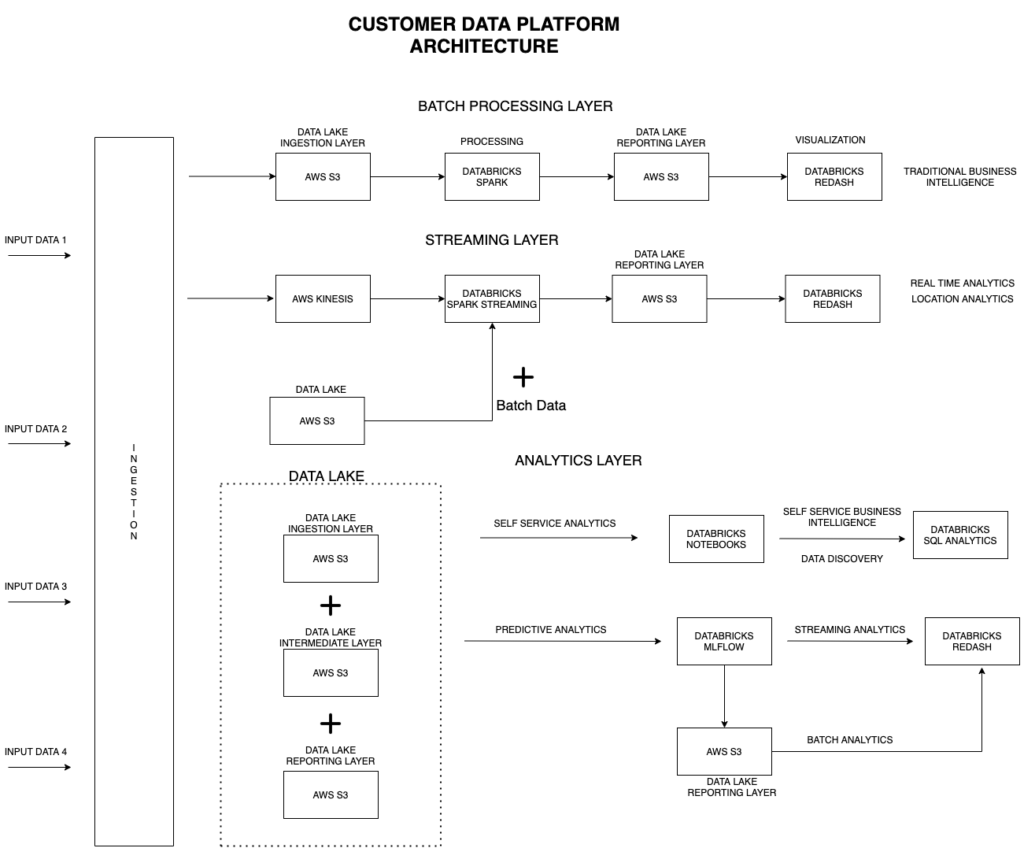 Components
Ingestion Layer
In this layer we onboard every incoming data into the platform. All input data can broadly be classified into 2 parts
Streaming or realtime data

All streaming data will pass through streaming layer.
Technology stacks used – AWS Kinesis + Databricks Structured streaming.

Non streaming data

examples of non streaming data are

API calls
s3 Dumps
sftp transfer etc

All non streaming data are would pass through batch layer
Technology stacks used – Data bricks batch processing/ SQL Layer.
Processing Layer
let us divide the processing layer into 3 parts based on the need of an organisation.
Realtime Processing – discussed above
Batch processing – discussed above
On Demand processing

Root Cause Analysis of an issue, Exploratory Data Analysis, use Case studies, Prototyping of a data science model etc can be put together under Adhoc needs.
Predictive Analytics would ideally be achieved by combining all of three (Realtime + Batch + On Demand).
Technology stacks used – Databricks notebooks + Databricks SQL Analytics.
Visualization Layer
visualisation needs of an organisation can be broadly categorised into following types
BI Dashboards

Redash – comes in default with databricks
Bring your own BI Tool – Tableau, Microsoft BI etc

Adhoc Visualizations

We could use visualisations available in databricks notebooks.

Custom Applications

custom applications in ReactJS/Angular etc
Analytics Layer
The overall analytics needs of a company can be divided into following parts. We discussed all the except "Predictive Analytics".
Structured Analytics (or Business Intelligence/ Business Insights)
Realtime Analytics
On Demand Analytics ( or Adhoc Analytics)
Predictive Analytics

It would need the flexibility of using both batch and realtime.
Batch modelling would fall under batch processing and realtime models would fall under realtime processing.
However, you would fine that most of the realtime performant models would not just be realtime. It would also have some components from batch processing.
hence, realtime models are actual hybrid of both batch processing and realtime processing.