Poetry – Python Introduction and Hands-on
Introduction
Poetry is a tool in python that is used for managing the packages and their dependencies.
We just need to define the libraries or packages that are required by our projects, and it will manage them for us.
The current release of Poetry can work on Python 2.7 and 3.5+.
For the upcoming releases, it will only support Python 3.5+.
So consider using the python version that is above 3.5.
All the dependencies can be seen at pyproject.toml file, while this is not available in pip.
It is very easy to switch between the different versions of python.
Publishing can be directly done.
Installation
Poetry has a custom installer that creates a separate environment for all our dependencies.
Although Poetry can be directly installed, it is preferred to do it by using the curl command.
For Windows-
(Invoke-WebRequest -Uri https://raw.githubusercontent.com/python-poetry/poetry/master/get-poetry.py -UseBasicParsing).Content | python -
curl -sSL https://raw.githubusercontent.com/python-poetry/poetry/master/get-poetry.py | python -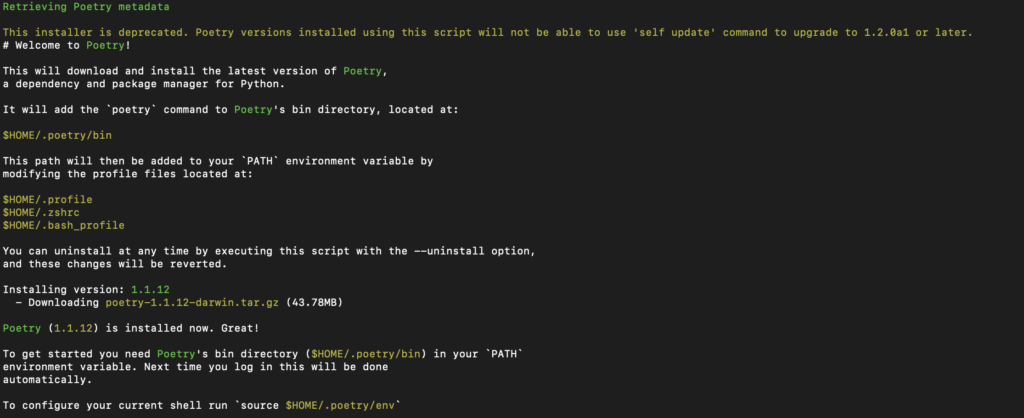 Let's check the version of Poetry that is installed, open a new terminal, and then run the poetry –version.

Installing Poetry using Pip.
pip install --user poetry

Installing Poetry using pipx.
pipx install poetry

Demonstration
Let's create our new project, say – status-poetry
 poetry new status-poetry

Let's open our project in the VS Code, and our project will appear something like this.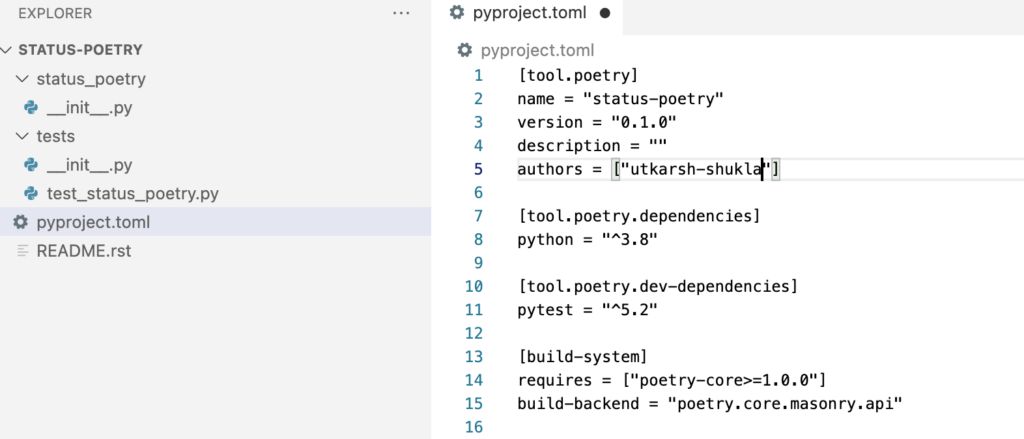 pyproject.toml file is the heart of this project.
If you are coming from the pip background you can consider it as a combination and system and requirement.txt files.
Readme file is also by-default created, with the test directory.
Every file will be having a default version of 0.1.0 in them.
Now the question is can be integrated the Poetry in an existing project?
Ofcourse yes, you just need to go inside that directory and run –
poetry init
This will add poetry to your already created project.
For adding the dependencies we just need to go to our pyproject.toml file.
There inside the tool.poetry.dependencies we will add our required packages and libraries.
For example say we want to add pandas 1.3.5 to our project, by this only we can do that.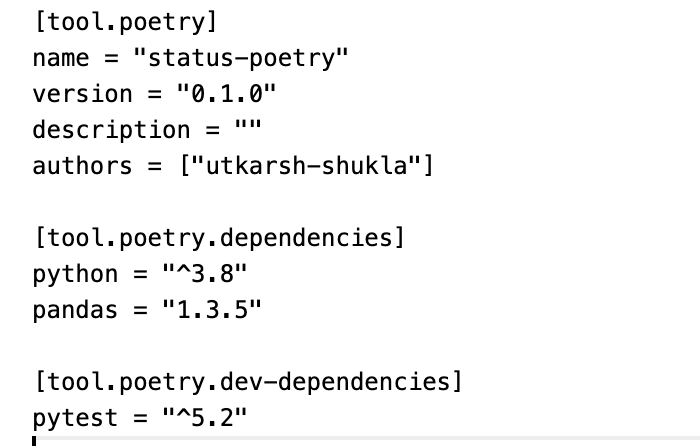 Now suppose you don't want to go the file everytime and update it.
In this case you can directly add the package by using the CLI and running the command –
poetry add pandas==1.3.5
By running this command the package will be added automatically to the poetry.lock file.
Now for installing all the dependencies mentioned in the tool.poetry.dependencies, you just need to run.
poetry install
It will install all your dependencies.
For creating a build we can use –
poetry build
Similarly for publishing the build we can use-
poetry publish

Now for running the files or script we can use-
poetry run python file.py

Lets create a file in our project say main.py and run it.


Or you can add all your scripts to pyproject.toml
[tool.poetry.scripts]
my-script = "my_module:main"
Then you can run the command –
poetry run my-script

This will execute your scripts.
References