ElasticSearch – Using Python
Introduction
ElasticSearch is a search engine platform that is used to store data and perform various analyses.
It is based on the Apache Lucene Library.
It stores the data in the document form, which is a non-relational form, basically a complex data structure.
It is a distributed storage platform, that is having distributed clusters across the globe so that it can robust and easily accessible.
Indexing is done to optimize the data storage and analyses capabilities.
It is developed in JAVA, and is supported in many languages like JAVA, .NET, PYTHON, RUBY, C#, etc.
It is the most popular search engine database.
Schema-Less
Elasticsearch also has the ability to be schema-less.
Documents can be indexed without explicitly specifying how to handle each of the different fields that might occur in a document.
When dynamic mapping is enabled, Elasticsearch automatically detects and adds new fields to the index.
This default behavior makes it easy to index and explore your data.
Just start indexing documents and Elasticsearch will detect and map booleans, floating-point, and integer values, dates, and strings to the appropriate Elasticsearch data types.
Ultimately, however, you know more about your data and how you want to use it than Elasticsearch can.
You can define rules to control dynamic mapping and explicitly define mappings to take full control of how fields are stored and indexed.
Define Your Own Mapping
Distinguish between full-text string fields and exact value string fields.
Perform language-specific text analysis
Optimize fields for partial matching
Use custom date formats
Use data types such as geo_point and geo_shape that cannot be automatically detected
It's often useful to index the same field in different ways for different purposes. For example, you might want to index a string field as both a text field for full-text search and as a keyword field for sorting or aggregating your data. Or, you might choose to use more than one language analyzer to process the contents of a string field that contains user input.
REST API's
Elasticsearch provides a simple, coherent REST API for managing your cluster and indexing and searching your data.
For testing purposes, you can easily submit requests directly from the command line or through the Developer Console in Kibana.
From your applications, you can use the Elasticsearch client for your language of choice: Java, JavaScript, Go, .NET, PHP, Perl, Python, or Ruby.
Searching Your DataEdit
The Elasticsearch REST APIs support structured queries, full-text queries, and complex queries that combine the two.
Structured queries are similar to the types of queries you can construct in SQL.
For example, you could search the gender and age fields in your employee index and sort the matches by the hire_date field.
Full-text queries find all documents that match the query string and return them sorted by relevance—how good a match they are for your search terms.
In addition to searching for individual terms, you can perform phrase searches, similarity searches, and prefix searches, and get autocomplete suggestions.
Geo-Spatial Data
Elasticsearch indexes non-textual data in optimized data structures that support high-performance geo and numerical queries.
Coding – Demonstration


Create an index for your dataset.
Code For checking, deleting and fetching all the indexes.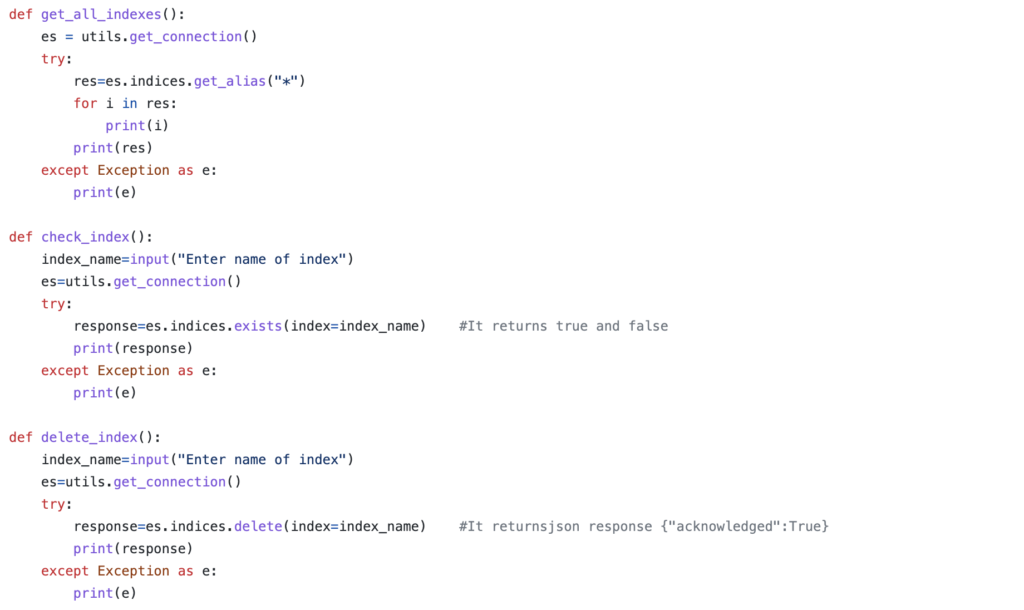 Code for fetching, inserting, and querying dataset.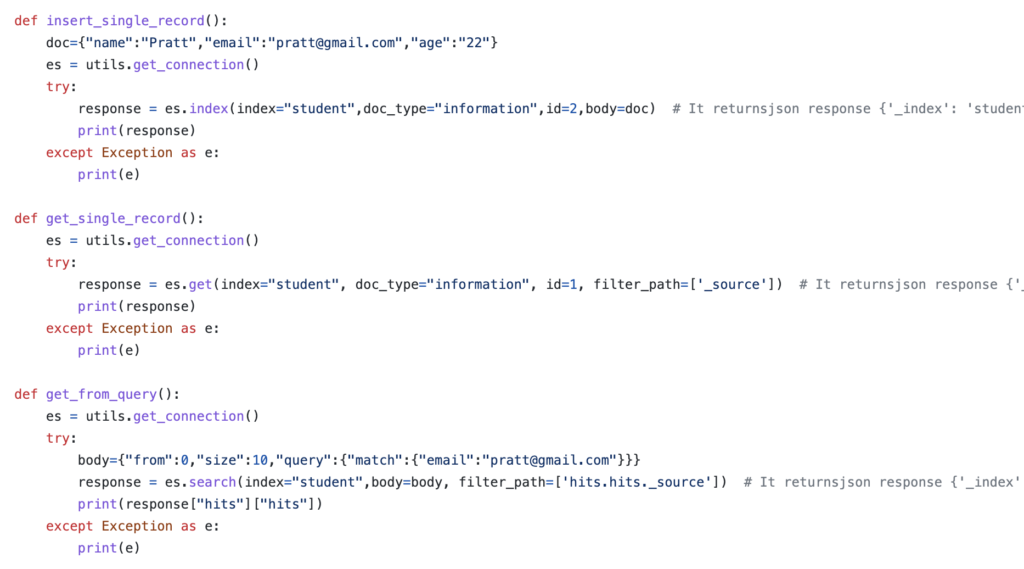 Code to read data from CSV.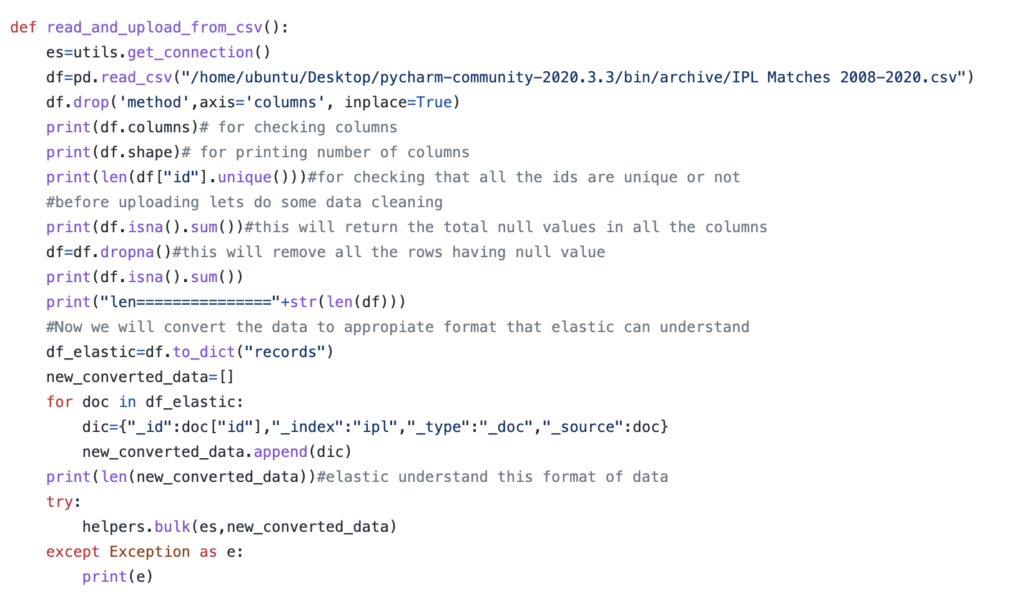 References-
Still Curious? Visit my website to know more!
For more interesting Blogs Visit- Utkarsh Shukla Author