Low Code No Code: 5 Reasons This Platform Will Transform the Future  
Would you believe me if I say you can build a website, mobile app, or some other digital asset without any knowledge of coding language? No, right?
To your surprise, I would say yes and that is true. Now you wonder how.
Let me take you on a ride through Low Code/ No Code, that's what I'm talking about.
What is Low Code/No Code?
No code –   
No code is a platform for application development where people with no technical knowledge can develop, function, and deploy the applications according to the requirement of the concerned enterprise.
Low code –
Low code platforms provide users with less coding knowledge to use their skills in the development and they can build customized mobile and web apps.
Together let's call it LCNC;
LCNC uses no or minimal coding for the application development instead of large strings of complex coding providing certain features like drag and drop, point and click which makes it much easier to use. Yes, it is simple as well as effective.
Before coming to why LCNC let me tell you what experts and surveys have to say about it –
Experts say LCNC will surpass traditional coding. An enterprise application development company, Mendix said that by 2024 most organizations are expected to use low code more than traditional coding. It is also revealed that had the respondent companies not adopted low code during the pandemic then one in nine companies would have closed.
2. Gartner revealed that 65% of the applications developed by enterprises will be built with LCNC by 2024(which was less than 25% in 2020).
3. 'Gartner Magic Quadrant for Enterprise Low-Code Application Platforms' reveals that around 66% of big companies will use at least four low-code platforms for app development.
4. According to 'Low-Code Development Platform Market Size & Forecast', The global low-code development platform market is projected to reach $112.43 billion, by 2026.
Now coming to why LCNC –  
When it comes to building software all we think of are developers and codes and costs but when we know we can use something alternatively that takes less time and almost no coding, one would at least give it a thought, right? So yeah, LCNC can give you products varying from small business applications to the complex ones.
1. With increased automation and the flexibility to experiment, it provides greater business agility.
2. Implementation is a lot easier and it is accessible, it's like you think of some tech product and LCNC will get this done for you. Making it easy to build, upgrade and maintain at minimum expense.
3. Knowledge of coding language is no more a barrier between your idea of a tech product and getting it out in the real world. You can get it with a click and compete with the products globally available.
4. Cost efficiency is something every enterprise look for, now ideas would no more be prolonged because of the cost of the development and they can be given a shot. It can turn your imagination into a burning reality.
5. Businesses today are very time specific, they want their work done in a given timeline and delays are not welcomed at all. LCNC plays a vital role here by delivering the product at a faster pace and hence saving time.
LCNC platforms available in the market – 
Amazon honeycode
Bubble
NoCode.tech
NoCodeAPI
Appsmith
Microsoft Power Platform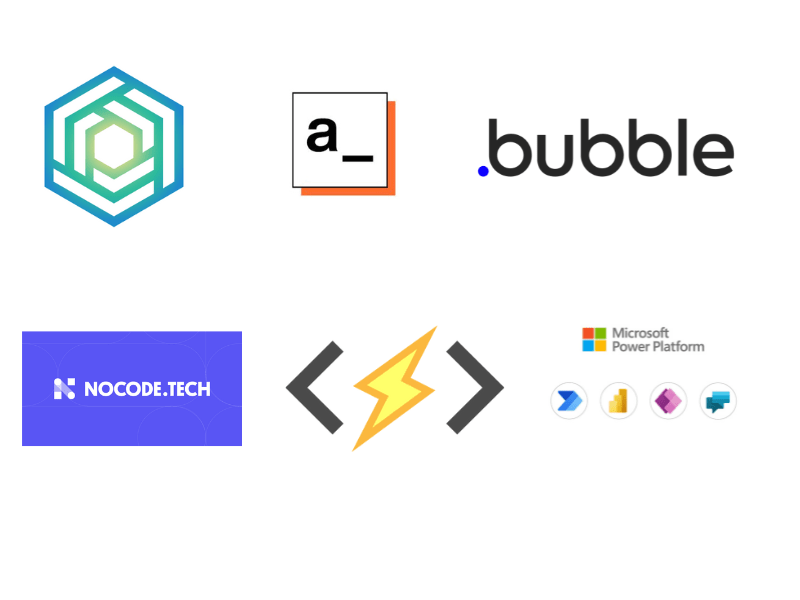 The aforementioned programs offer a simple, accessible, efficient, and quicker way of developing software and can be operated by individuals with limited or no knowledge of coding.
How is it different from traditional software development?
Talking about traditional development, requires professional coders who get their hands dirty writing the lines of code, the variety of software tools, and appropriate tech stack (coding language, databases, etc.). This is suitable for the development of a more complex product as it offers unlimited functionality where you can build any functionality or where we see long-term control of the product. Also, we use the traditional development method where lots of third-party integration is required.
But for a less complex and simple tech product where we want to save our time as well as money and use less professionally skilled staff delivering the high-quality product, LCNC is a feasible and smart option to go with.
Now you are aware enough to choose wisely when to use what.
Conclusion –  
LCNC is not an alternative to the traditional way of development. It is not meant to replace what have been doing for years, but it's all about complimenting each other. Citizen developers and professional developers can work together to build the best products for an enterprise. They both should go hand in hand.