Low-code/No-code – Future of Technology
Introduction
For every organization when its activities and growth expand more and more, it goes beyond its country boundary and moves to other countries' markets.
Market superiorities
High level of financial resources
Advancement in technology
Product innovation
To maintain these growth parameters an organization should focus on several factors:
Increasing efficiency: A platform is required to reduce the time and resources required to develop and deploy applications.

Enhancing collaboration: A company must have a platform for easier collaboration between departments and business units, improving cross-functional communication and decision-making.

Facilitating innovation: A useful source and a new platform is required for providing a low-risk environment for prototyping and testing new ideas, platforms enable MNCs to rapidly experiment with new products and services.

Improving customer experience: A customer is God for any organization so must have a platform to develop customer-facing applications, providing a better user experience and improving customer satisfaction.

Reducing technical debt: An organization must have a platform or useful resource that provides a flexible and scalable infrastructure for developing applications, reducing the amount of technical debt that MNCs need to manage over time.
The experiences of recent years, especially those related to the pandemic, show that the need for new technological solutions is growing among organizations in various industries. In other words, digital transformation has become crucial and its main objective is to enable building apps or websites for non-technical people in a short period of time.
As per my research, I observed the following business trends nowadays and various questions that actually can lead to many shortcomings in the business trend of technology today.
Why is it so expensive to incorporate modern, digital solutions? Is there any more accessible alternative to custom software development?
Can we create the applications without any programming language?
I would say creating a business/personal website with little to no technical skills is now easier than we imagined and this approach to application development and creating websites allows people with no or little technical expertise (so-called citizen developers) to create customized solutions using dedicated platforms is called " Low-code/No-code".
What actually are Low-Code and No-code platforms?
Low-code and no-code platforms are a software development approach that enables business users with no coding knowledge to build apps using drag-and-drop options instead of writing code.
I say thanks to this solution, an application development process is less expensive and time-consuming.
When and why is a low-code or no-code used?
In small businesses, mostly to build simple and non-risky applications related to visual analytics, and workflow automation as well as to develop web and mobile sites.

The graph below shows the most popular reasons for using such tools.

Reasons for using low-code and No-code platforms :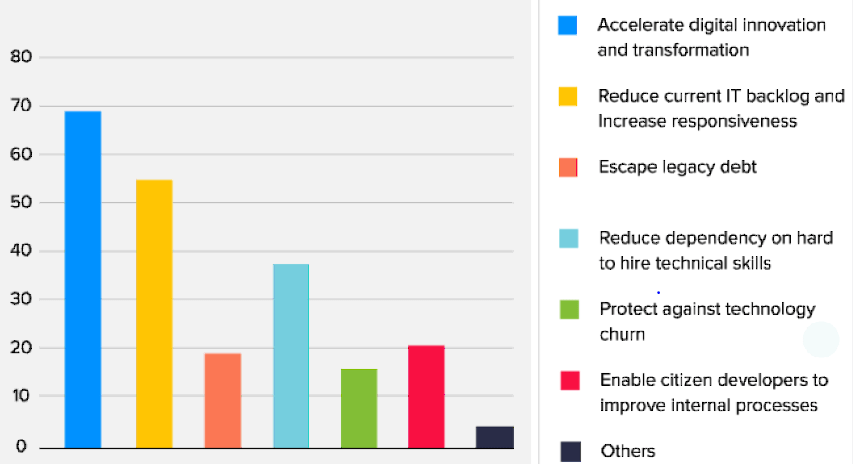 5 most important no-code/low-code trends that are changing the IT industry :
How is low-code/no-code changing the industry?
What is its future?
To answer this question, let's take a look at current trends related to low-code and no-code development and its influence on the software development industry.
Low entry threshold for application development:
Low-code and no-code platforms are changing app and software development by making a very low entry barrier for people who don't have a programming background. An intuitive interface with drag-and-drop features helps users create custom solutions for their business needs.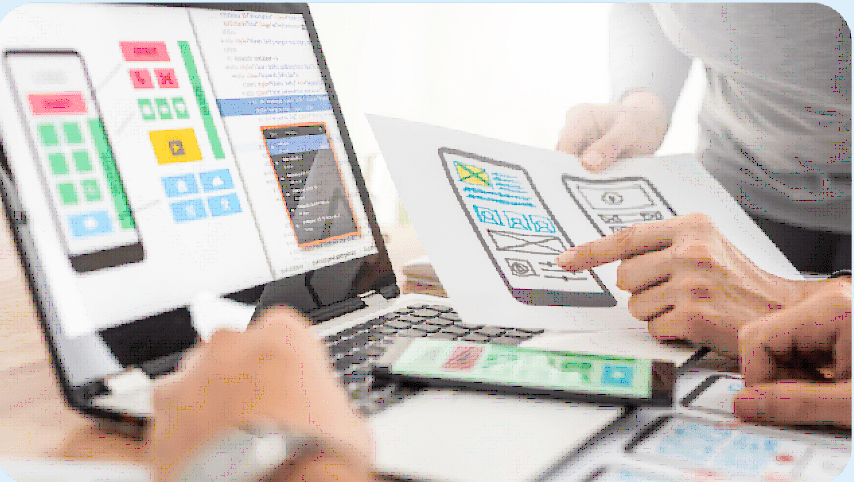 Note:
As a Microsoft study shows, 82% of low-code/no-code users agree that the technology helps give software users the chance to advance their technical expertise and knowledge of software development.
Additionally, it has been demonstrated that the usage of no-code or low-code platforms or apps has had an 83% good influence on users' job satisfaction and workload, as well as an 80% positive impact on users' morale.
Democratization of Programming:
let's take an example of our daily life we use apps in our day-to-day life like a bank while traveling, shopping, or at the gym. Apps are becoming indispensable not only at work and in business and these more complex and advanced applications are developed by professional programmers with a large amount of capital.
However, simpler applications, such as those for workflow management or data analysis, can be created by non-developers because in this way we can save time and very important risk parameters that impact every organization's 'cost'.
This new approach is called the democratization of technology.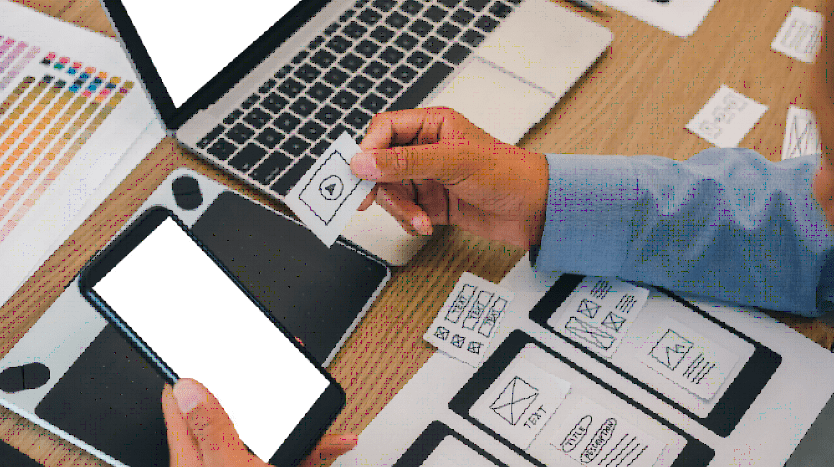 Again a very big thanks to low-code and no-code platforms, more and more people without programming backgrounds are closer to technology and don't need to spend years learning how to code to create a customized application.
Note:
Instead, as data from the Low-Code Application Development Trends survey shows, 70% of their users learned low-code in 1 month or less and 73% of users were developing apps within 3 months or less.
Cost and speed of development:
The main reason many business users choose low-code tools is simple: time and money.
Software development with no-code and low-code tools takes much less time compared to traditional development.
Nowadays, platforms for low-code development are part of a crucial strategy to help with rapid application development and quick deployment. Software development with no-code and low-code tools takes much less time compared to traditional development.
Hyper- automation:
In order to increase productivity, optimize costs and improve workflow, enterprises use technologies such as robotic process automation (RPA), artificial intelligence (AI), and low-code application platforms (LCAP).
This modern, business-driven approach to rapidly automated processes is called hyper-automation.
Note:
It's worth adding that, according to Gartner's insights, hyper-automation is one of the 12 top strategic technology trends for 2022.
Software as a Service:
Nowadays, low-code software development is becoming an important SaaS trend. Thanks to its low entry barrier, anyone who doesn't have coding skills is able to enter the SaaS market with products built with a low-code platform.
Growing importance of low-code development market (Real Numbers):
To answer the question if low-code/no-code is the future, we will look at real numbers.

The low-code market was valued at almost 12 500 million U.S. dollars in 2020, and is forecast to reach approximately 191 million U.S. dollars in 2030. The market is projected to grow with a CAGR of 31.3 percent over this period, according to Low-Code Development Platform Market Research Report.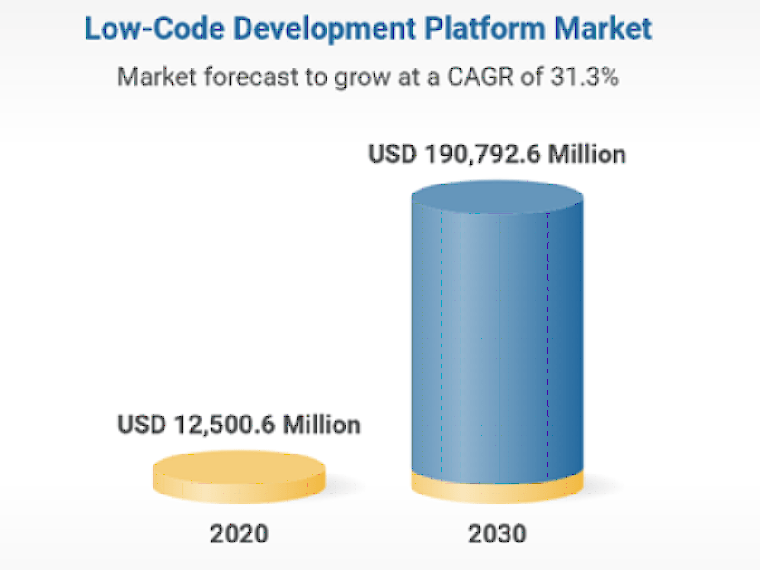 More and more companies are using low-code technology outside of IT departments. It is predicted that by 2025, low-code or no-code technologies will be used in 70% of new applications developed by organizations.


The remote working regulations, movement restrictions, and general lockdowns that were implemented during the COVID-19 pandemic resulted in the rise of the popularity of low-code.
Will no-code and low-code platforms replace traditional software development?
Creating a solution that would replace expensive programmers has been a golden grail of IT for a long time. Low-code is one such attempt.
But is it efficient?
"I believe that we are at a stage where we have disenchanted the myth that someone who does not the program can create any application. The naive approach is that we can make such a solution that anyone can operate. There will always be nuances. If we want to reduce the complexity of an application, we have to expect that it will be at the expense of its quality".
So will no-code replace code?
To answer this question, we have to analyze to what extent no-code/low-code can be an advanced tool.
The more complex the application, the more resources are needed to know how to operate it.
Example: Project: Create a simple inventory management system for a small business
Choose a low-code/no-code platform: We will use Airtable (low-code/No-code application development tool) as the low-code/no-code platform for this project. Airtable is a popular database management tool that allows users to create and manage databases using a spreadsheet-like interface.

Create the base: In the Airtable dashboard, create a new project and name it "Inventory Management".

Add tables: Add tables for "Products", "Categories", and "Inventory Levels". Each table will have its own set of fields, such as product name, price, and quantity for the "Products" table, category name for the "Categories" table, and product name, quantity, and location for the "Inventory Levels" table.

Create a relationship: Create a relationship between the "Products" table and the "Categories" table using the "category name" field. This will allow you to filter and sort your products by category.

Create forms: Create forms for each table, which will allow you to easily input data into the tables.

Create views: Create views for each table that will make it easy to view and manage the data. For example, you can create a view that shows all products that are running low on inventory, or a view that shows all products in a specific category.

Create automation: Create an automation that will alert you when inventory levels reach a certain threshold, or when a new product is added to the "Products" table.

Test and Deploy: Test the system and make any necessary adjustments, then deploy it to users.

This is a very simple example, but it gives you an idea of how you can use a low-code/no-code platform like Air table to create a functional project without writing any code. Of course, depending on the complexity of your project, you may need to use multiple tools and platforms to achieve your goals.
List of Industries that leverage the Low-code/No-code platform:
Hospitality
Education
Medical
Construction
Advertising
E-commerce software
Entertainment
Journalism
Above all these industries I have taken the use-case of the healthcare industry, Let's assume building an application using No-code/Low-code platforms that facilitate patients, Hospital Management, and Doctors in their day-to-day efforts.
Pain points of the Healthcare Industry:
Challenges faced by patients, doctors, and Hospital management in their day-to-day life:
A) Patient does not have any platform or portal for raising their inquiry, scheduling their appointments with Doctors, and interacting with the hospital ( Billing, Discharge summary, etc).
B) Hospital Management: For Hospitals, we are providing a portal where invoicing for the patients, bookings for the beds, and daily inventories could be managed.
C) Doctors can see their daily appointments and interact with patients to see their reports and prescribe medicines to them.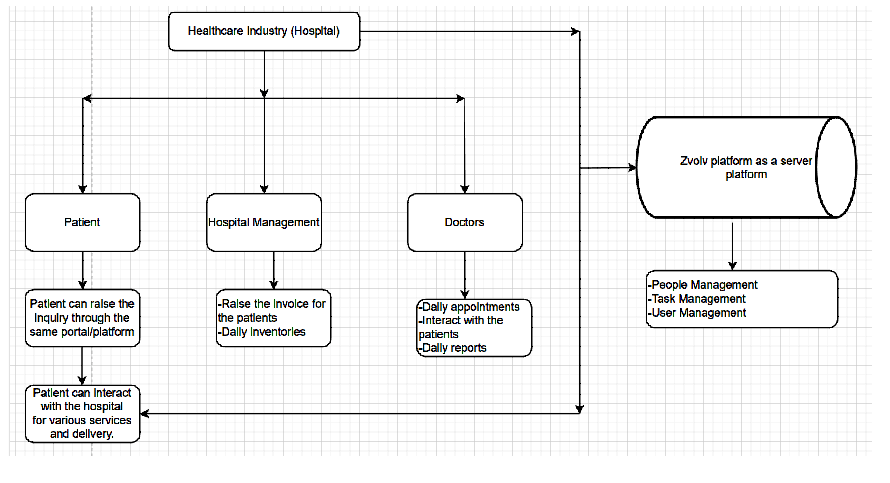 Conclusion:
Low-code or no-code platforms enable businesses to build software and applications faster with lesser to no-code. Companies can save more time and costs behind traditional backend and front-end coding and the cost of skilled software engineers. Traditional software development slows down the development life cycle. Businesses can shorten the development cycle and build apps seamlessly with low-code, no-code development.