Customer 360 | Banking
The banking industry has evolved tremendously over the years. Gone are the days of traditional banking concepts with the adoption of digitalization. With various channels coming into play like IVRs, Internet banking, mobile apps, ATMs, branches themselves, and so on, and the ever-increasing presence of banks at locations throughout the country, the volume of customer and transaction data has grown multi-fold. With the extensive data silos, it becomes imperative to understand and consolidate this information correctly, in a cost-effective and time-effective manner.
Earlier, customer 360 was portrayed as collecting all the data and information about a customer, through various stages of the customer life-cycle and consolidating it for a broad-single view. With the involvement of data analytics, Customer 360 has grown beyond only data collection. It's more of gathering valuable insights from that data; mapping out hidden trends and relationships between the data to increase the profits and promote various products of the banks.
Customer 360 enables the banking and finance industries to create better customer experiences and long-term engagement. By creating a more personalized experience, customer satisfaction and retention becomes the key outcome. Also, it would help the institutions pitch the correct product at the right time to add more business value.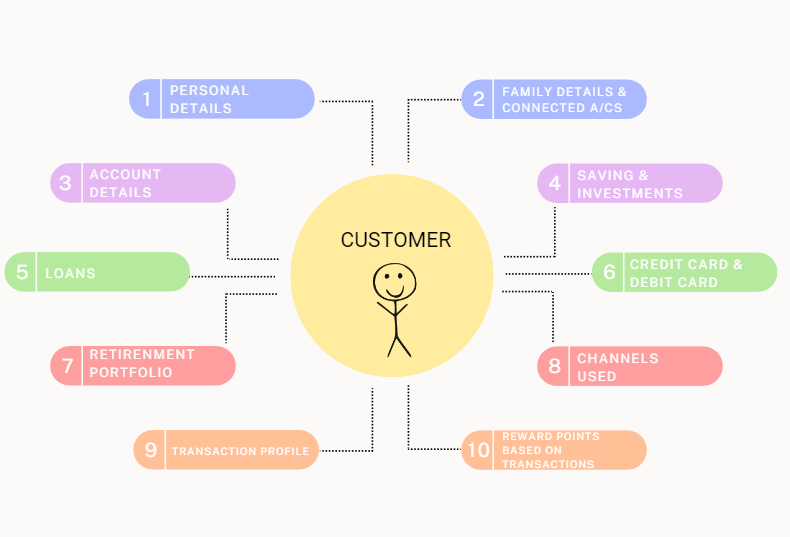 CRM (Customer Relationship Management) and MDM (Master Data Management) applications leverage this customer data across various functionalities in the bank and make sure that customers feel acknowledged when they explore various touchpoints that the bank has to offer. As a result, customer 360 and advanced analytics are becoming a key focus area that is being tapped all across the banking and finance sectors.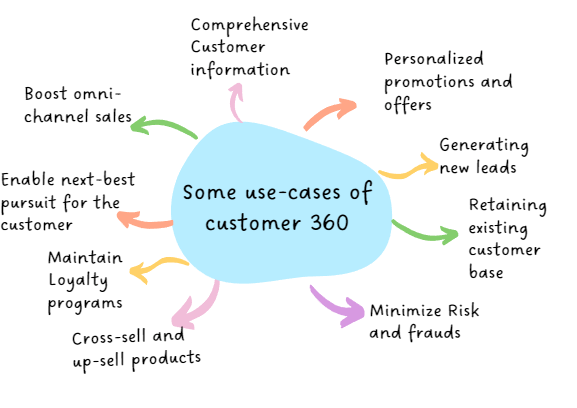 So, to sum up, all banking and finance institutions recognize that their top business objective is to provide customers with a positive first impression and a thorough, all-encompassing experience across all channels.