Robotic Process Automation in US Healthcare Claim Processing is the future!!
Claim Processing is one of the most important process for any Insurance firm and lies at the heart of the same.
This is the step where insurance companies meet their commitment to the clients, sets highest standards of service, drives credibility, and fulfills its obligations.
For years, the steps involved in Claim processing have involved lots of manual intervention which makes it a long and cumbersome task.
Claim Leaders in Insurance have been rightfully focused on automating the steps of claim management to reduce the turnaround time.
The advancements in claim platforms and introduction of chat bots, document ingestion tools and artificial intelligence for data extraction over the last decade has helped insurance firms in improving the productivity and indemnity performance in some verticals of business, while reducing the cost.
However, what works for one insurance company doesn't necessary work for the other one.
Technology allowing insurers to automate the entire claims process doesn't necessarily mean it's the right approach for every claim.
Due to high cost involved with automation many insurers have experienced suboptimal returns on their investments in automation. The culprit to some extent in such cases is the Technology-first approach that focused more on tangible economic benefits out of automation, while downplaying the customer experience upside.
Challenges in Manual Approach for Claim Processing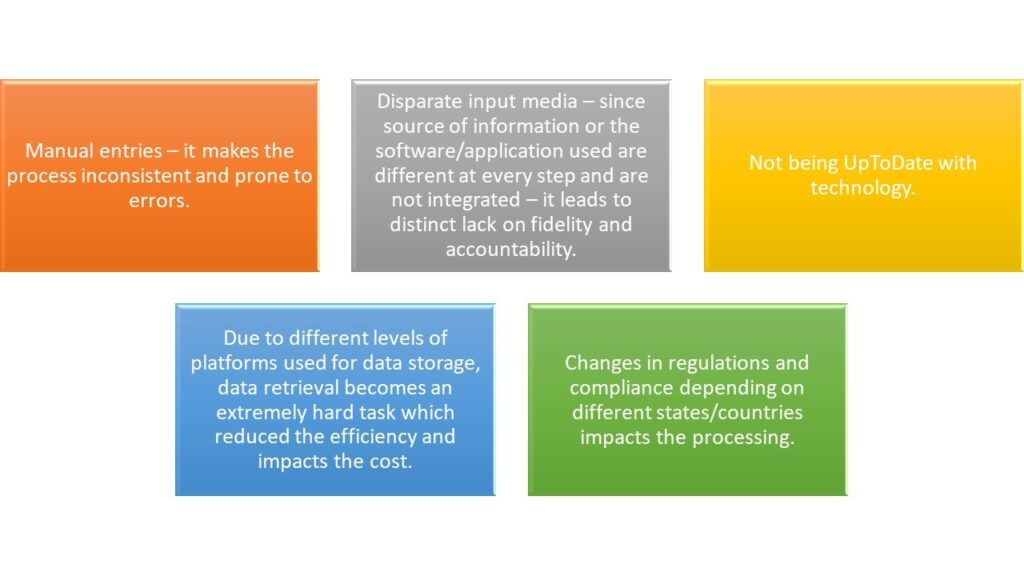 Many insurance firms already have automations – whether at basic levels or for the entire processing. However, these solutions are disparate and comes with their own set of challenges and in some instances ends up complicating the entire process.
Even after automations the manual input from human workers to process and navigate the data between different systems is required which burdens the claim process, exposes it to errors and adds extra cost.
Robotic Process Automation (RPA) is a fully integrated, end to end automation solution that overcomes all the automation vs manual work-related obstacles. It is a software technology that makes it easy to build, deploy and manage software robots that emulate human actions.
It works at the presentation layer, integrating with all the applications and systems, including legacy systems without creating any disruption.
It is entirely scalable according to all the necessities and has up to 100 percent robotic accuracy.
RPA streamlines insurance claim processing and helps in making the steps moves faster.
A claims adjuster can automate the extraction and transmission of data with a simple software robot – or use something as sophisticated as machine learning enabled IQ Bot to automatically extract and organize unstructured data.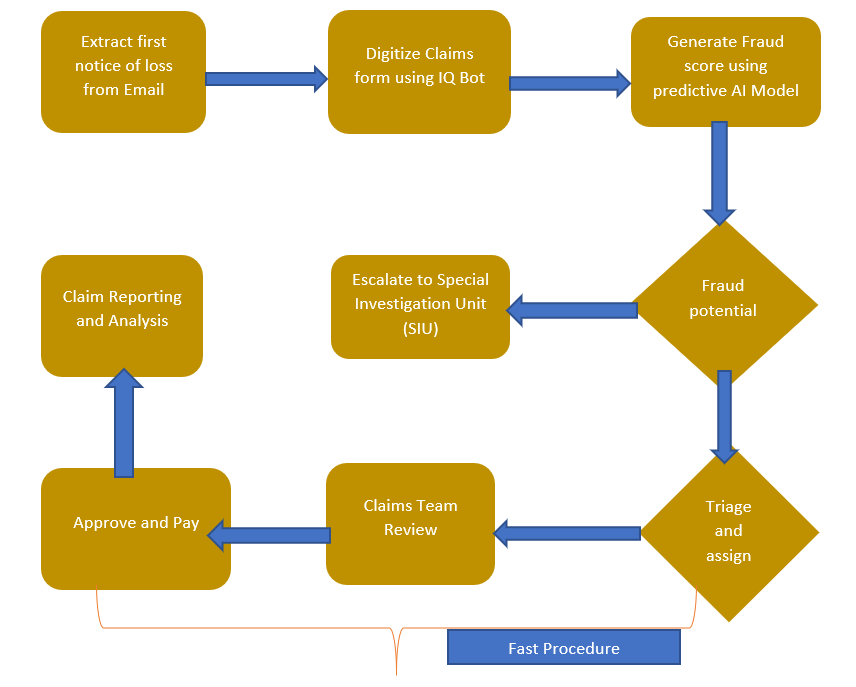 Once RPA is adopted by the insurance company at every step, it empowers the employees to engage better with customers and to perform more meaningful work than paper pushing.
Overall, it helps in increasing and improving the productivity and introduction of bots bring structure to the vast amounts of claims information going through different departments, newly gathered insights and discoveries help agents better serve each customer.
Advantages of Applying RPA
Different set of bots can be run or combined in various ways to perform highly complex tasks, letting claim professionals to concentrate on claims where they can add more value.
RPA and artificial intelligence can be used together as intelligent automation to analyze the data and detect fraud in real time.
Overcomes the challenge of integrating disparate systems using robots to automatically acquire and integrate data from clinical applications, lab information systems, third party portals , insurance portals, radiology information system, scheduling applications, ERPs and HR applications.
It can help in utilizing the skills of employees where human touch is required.
Eliminate drain on the budget and human resources, infusing speed, intelligence, efficiency and quality into your healthcare processes.
Automate tasks like eligibility requests to access information for better communication to providers and patients.
Automate claims status requests and perform reviews of claims to deliver better revenue cycle management.
Live monitoring of claim operations and system performance with automatically generated audit trails and dashboard analytics.
Automated claim verification based on highly configurable rules
It also helps in eliminating the margin of human errors of Manual data entry and thus helps in improving accuracy and efficiency.
Within the system, RPA Supports UM, care coordination, case management, remote monitoring of patients etc.
References
https://www.uipath.com/solutions/process/claims-processing-automation
https://www.automationanywhere.com/company/blog/product-insights/how-automation-transforms-insurance-claims-processing